It is rare that Ruby Assembly has the chance to interview an individual who describes themselves as having emerged from the woods of South Bohemia where she was raised by wolves. Today, we are proud to feature Helpmann and Green Room award-winning theatre set and costume designer Gabriela Tylesova (above, at left channelling the Ballet Russe). Born in the Czech Republic and having worked as an artist and graphic designer in Prague, Gabriela came to Australia in 1996 to study Theatre Design at NIDA. She has worked in theatre, film and grand opera, most recently designing set and costumes for Lloyd Weber's popular Love Never Dies. Gabriela is currently in Melbourne working on the production of The Turk In Italy for Opera Australia. We were pleased to pose questions to the artist on the development of their creative identity, and new project Aviatrix.
Gabriela's work on Sweeney Todd, featuring Judi Connelli as Mrs Lovett.
RS: Being a costume designer is role requiring  rich cultural knowledge, a passion for research and skilled craftsmanship – not to mention fabricating ideas into material outcomes. How did you come to work in this capacity? Did you undertake a particular course or apprenticeship – have you worked in commercial fashion design, or always with arts bodies and institutions?
G: As a child I was interested in sculpture and painting. I had very encouraging art teachers from early on in my life. I really wanted to be a painter. Falling in love with theatre was one of those unexpected accidents. This happened while I was working for Puppet Theatre Minor in Prague, painting posters for theatre productions and making marionettes. At the same time I was also illustrating children's magazines. Instead of studying at the Academy of Fine Arts in Prague, I adventured to Australia and studied set and costume design at NIDA in Sydney. Observing the working process of many senior designers plus being involved in variety of art disciplines during my life has helped me to understand the design process. 
RS: Who are the costumiers who have most inspired you, locally and internationally? Which is the project of which you are most proud, to date?
G: I admire the work of Czech film maker Jan Svankmajer, in particular his early short animations (an image by Svankmajer, above). Another great costume designer and inspiration is Julie Taymor.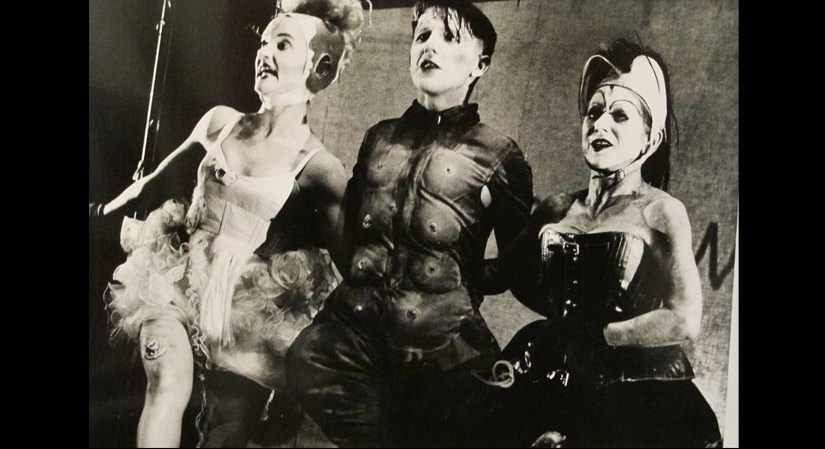 I am proud of my work for the production of This Little Piggy for Sydney Theatre Company. I had to create four animal-based costumes which were a cross between high fashion and strange twisted fairytale look (inset, above).
Do you think it is imperative within the creative industries to establish oneself overseas before enjoying success at home? 
G: No, I don't – but it can certainly help. I believe in talent , hard work and persistence.
RS: You have interpreted Turk In Italy for Opera Australia with delightfully playful, retro costumes (above). When a production is underway, how is the context of its presentation decided upon? How much feedback is given to you on your design work? 
G: I work closely with the director of each production, in this instance Simon Phillips. Initially we have series of meetings when we discuss how we see individual characters, often to the small detail. I usually do quick sketches (an example of  such a sketch below) which later lead into full colour costume illustrations. It is collaborative process – after establishing the initial concept I develop the ideas further …I really enjoy drawing different characters, I suppose this passion comes directly from early in my life – sketching interesting characters in real life.
An outtake from Opera Australia's Sydney season of The Turk In Italy: Emma Matthews as Fiorilla, Paolo Bordogna as Selim & Samuel Dundas as Prosdocimo.
RS: Which costume from The Turk In Italy are you most fond of, and why?
G: I love the mesh black singlet and tiger boxer shorts.  These weren't part of the original design, these ideas were developed just before the general rehearsal – a close collaboration between me, the leading singer and the director. 
Gabriela (right) with creative partner in Aviatrix Emilia Simcox.
RS: You are expanding your vision with Aviatrix, a wallpaper and fresco brand. Why has 'bring forth more islands' been chosen as your brand monicker?
G: Bring forth more islands is a quote from Shakespeare. Emelia Simcox (Aviatrix co-founder) and I are both of a theatrical and visual art background. The imaginary story behind Aviatrix is of us traveling the world, discovering new unchartered territories… islands… each wallpaper collection is inspired by one of these imaginary lands.
RS: Can you tell us about the commission and development of an Aviatrix bespoke composition? How do you work with your clients to produce their work?  
G: The setting for The Turk in Italy required some heightened domestic environments. We were looking at a 50's kitchen and a bar. I needed interesting 50's inspired wallpaper to fill a 7 metre high kitchen wall. This was a perfect opportunity for Aviatrix. We sell our wallpapers by the roll, and offer full customization. 
RS: What do you value more : truth or fiction? 
G: Where does truth ends and fiction starts…..I think we need both in life.